Nauraj Gurung passes out from the Gurkha Regiment in the UK on October 6th 2016
Nauraj applied to join the British Gurkhas while studying at Shamrock School. After passing the physical and mentally gruelling entry tests he travelled to the UK where he excelled during the 9 months of initial training. He also achieved the award of best cadet of the Gurkha Staff and Personnel Support.
http://www.telegraph.co.uk/news/uknews/defence/10677559/The-race-to-be-a-Gurkha.html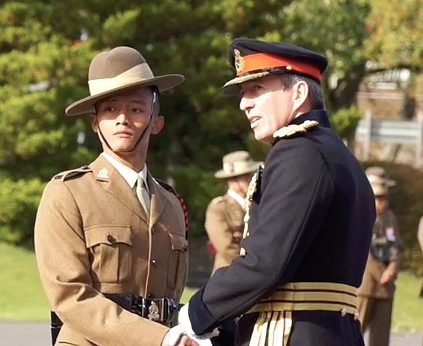 My name is Nauraj Gurung. I am a former student of Shamrock School. I started my student journey at Shamrock school at the age of twelve. I studied there for four years and graduated with a school-leaving certificate (SLC) – GCSCE equivalent.
After Shamrock, I joined the Prativa Higher Secondary College for my higher education. Later, I faced many challenges before joining the British army.
The founder of the Shamrock School, Mr. Duncan Cradden, is from a military background. Mr. Duncan Cradden worked alongside the Gurkhas for 11 years and he helped me gain foundational knowledge about Gurkhas.
When I moved to England as a new Gurkha soldier, I encountered cultural challenges. After completing the training, I got selected and feel very privileged to serve with the Gurkha Staff and Personnel support in the Brigade of Gurkhas. At present, I am a senior military personnel administrator (MPA). Alongside that role, I get opportunities to travel around the world and do various exciting and adventurous training and sports. So far, I have been deployed in Afghanistan and completed numerous overseas exercises.
My career would not have been possible without Shamrock's help and support. To all donors, who have supported running the school thus far, my sincere THANK YOU. Please keep supporting this noble cause to provide quality education in Nepal. A fundraiser for Shamrock from the Gurkhas is on the way!
Namaste.